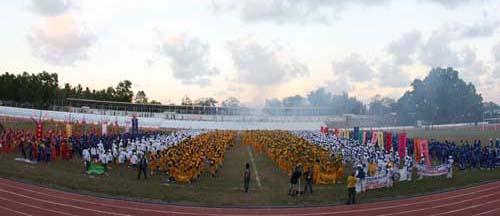 February - July
Puerto Princesa is being frequented by sports enthusiasts nationwide and worldwide to join various sports events.  Tagged as the Sports Capital of the Philippines, the City regularly backs world known major sports activities such as basketball, swimming, motocross.  This is motivated by its program to preserve its intrinsic magnificence of its environment while sharing it with the world.
Sports fanatics set up its first onset when Puerto Princesa mounded various major awards during the first term of the City Mayor, Hon. Edward S. Hagedorn.  Since then, other sports activities emerged such as marine sports activities like kiteboarding, wakeboarding, water skiing, banana boat ride, tube riding and hooka diving.  Most of the participants were locals and visitors from other countries.
To name a few, the City regularly hosts the "Motocross Masters of Asia" the Philippine leg of the FIM UAM Asian Motocross Series, Puerto Princesa International Motocross Grand Prix, Thai Riders, Pinoy Riders, Mountain Bike XC Challenge, Boxing Eve "Hamon sa Puerto Princesa".