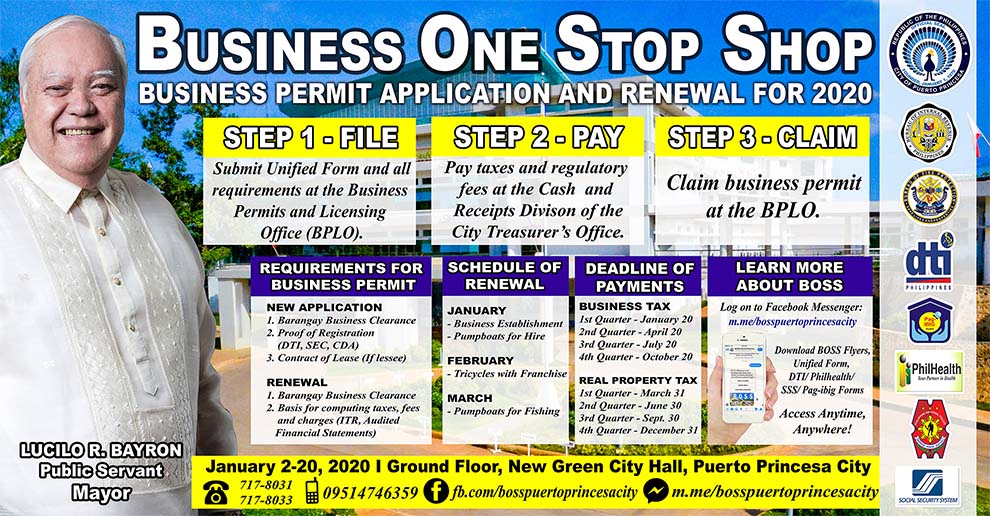 The Business One Stop Shop (BOSS) of the City Government of Puerto Princesa which is scheduled on January 2-20, 2020 aims to streamline processing
and renewal of permits to three steps.
This annual BOSS gathers under one roof all the government agencies to set up desks for permits or clearances needed to renew and apply for a business permit.
These government agencies include the Bureau of Fire Protection, Pag-ibig, Philhealth, SSS, PNP, DTI, BIR and other City Government Offices where
clients save time in going to these different offices to secure necessary signatures.
To know more about the following, just type the keyword on our Facebook Messenger - facebook.com/bosspuertoprincesacity and send:
• BOSS – To know more about BOSS
• PROCEDURES – Step by Step Guide Process for Business Permit Application or Renewal
• REQUIREMENTS – To know more about the requirements for your Business Permit Application or Renewal
• DTI – Download DTI Forms
• SSS - Download SSS Forms
• PAG-IBIG - Download Pag-ibig Forms
• PHILHEALTH - Download Philhealth Forms
• FORM - Download Business Permit Application and Renewal Form
• FLYERS – Download Business One Stop Shop (BOSS) Flyers