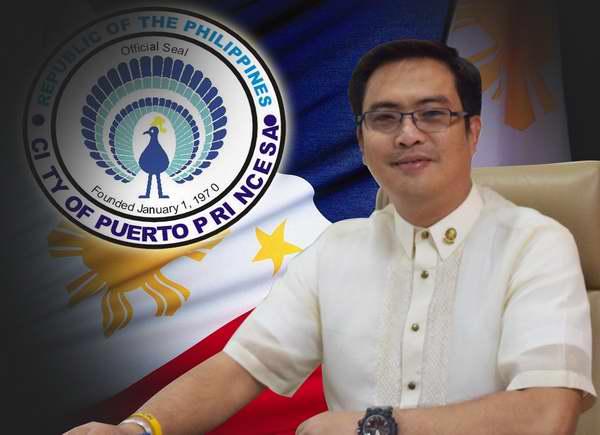 Puerto Princesa City Mayor Luis M. Marcaida III was born on March 11, 1976 and is the youngest of the six children of former Provincial Prosecutor Luis Roxas Marcaida and Immaculada Marimla Marcaida. He is a graduate of AB Political Science and is on his third year at Palawan State University College of Law.
Public service is close to the heart of this young servant. He was elected two times as president of the Sangguniang Kabataan Federation of Puerto Princesa City from 1996 to 2002. After his stint at the SK, Marcaida became the youngest punong barangay of Bancao-Bancao, Puerto Princesa City.
From the barangay, he tried his luck to secure a larger base to serve the whole city constituents. Running as an independent candidate, he won a city council seat in 2007 for his first term. During the 2010 local elections, due to his excellent performance as a local legislator, he was elected as the number one city councilor for his second term.
Climbing up the political ladder, he attempted to run as an independent candidate for vice mayor post. Luckily, he won as the city vice mayor during the 2013 elections. Again, due to his successful achievements as city vice mayor and presiding officer of the Sangguniang Panlungsod, Marcaida secured his second term as vice mayor in the 2016 elections.
He has authored 216 resolutions and co-authored 222 resolutions. Before becoming a mayor, he proposed 13 ordinances and co-authored 11 other ordinances at the Sangguniang Panlungsod.
Marcaida has been part of the implementation of Executive Order No. 2 (Interactive Bayron-Marcaida Mobile Services), popularly known as the DAMAYAN Program which aimed to provide basic public services to the sixty-six (66) barangays of the city. More than 27,000 residents have been beneficiaries of the program.
Marcaida is one of the strong supporters in implementing Executive Order No.3, known as the Task Force BANAT (Bayan Against Narcotics, Addiction and Trafficking).
Marcaida believes in the closeness of family members and ensuring the good future of the children. This prompts him to use "LAKAS NG PAMILYA, LAKAS NG SAMBAYANAN" as his political battle cry.
He is a good husband, father and provider to his wife Monette and their children - King, Mon and Abby.
On February 21, 2017, with all humility, he was sworn into office by Palawan Regional Trial Court Executive Judge Angelo Arizala as mayor of Puerto Princesa City based on the rule of succession replacing Mayor Lucilo R. Bayron.
He considers this new challenge as a gift from God as he bears on his heart and mind the value of good governance and faithful service to his beloved people of Puerto Princesa City.