There is no gainsaying that Puerto Princesa City has built an image of par excellence in the field of sustainable development in the restoration and rehabilitation of its denuded forests, heavily damaged fishing grounds through indiscriminate use of toxic chemicals and destructive fishing methods and whatever interventions in the ecosystem that caused pollution and other dreadful consequences in the once beautiful environment.
The preceding chapters have loudly and clearly shown how Puerto Princesa City has come to be "a magical window to ecology." The numerous awards and recognition accolades under City Mayor Edward S. Hagedorn triumphantly attest to all this.
AWARDS AND RECOGNITION
                   On top of all the awards and recognition is the United Nations Educational, Scientific, Cultural Organization (UNESCO) inscription of Puerto Princesa Subterranean River National Park (PPSRNP) on the World Heritage List on December 4, 1999 at Marrakesh (Morocco), "confirms the exceptional and universal value of a cultural or natural site which requires protection for the benefit of all humanity."
The inscription reads:
            PHILIPPINES
            The Puerto Princesa Subterranean River National Park
            Features a spectacular limestone karst landscape with its
            underground river. A distinguishing feature of the river is that it
            emerges directly into the sea, and the lower portion of the river
            is subject to tidal influences. The area also represents a
significant habitat for biodiversity conservation. The site
contains a full "mountain-to-sea" ecosystem and protects
some of the most significant forests in Asia.
              AWARD OF EXCELLENCE
Award of Excellence
1. 1994 CLEANEST AND GREENEST COMPONENT CITY IN THE  PHILIPPINES
Given by His Excellency President Fidel V. Ramos at Rizal Park, Manila, December
      14, 1994.
2.  1995 CLEANEST AND GREENEST CITY IN REGION IV & THE CLEANEST
     INDLAND BODY OF WATER (Irawan River)
    Given by the Department of Interior and Local Government (DILG) Region IV at   
    The Coconut Palace, Cultural Center of the Philippines Complex on November 9, 1995
3.  1995 CLEANEST AND GREENEST COMPONENT CITY IN THE PHILIPPINES
     Given by His Excellency President Fidel V. Ramos, Manila, December 10, 1995.
4.  GANTIMPALANG PANG-LINGKOD POOK (GALING POOK) AWARD
      Oplan Linis Program, City Satellite Hospitals and City Satellite Libraries Sponsored 
      by  the Asian Institute of Management in coordination with the Local Government
      Academy. Awarded by His Excellency President Fidel V. Ramos on July 18, 1995
     at Malacañang Palace.
5.  1996 CLEANEST AND GREENEST COMPONENT CITY IN THE PHILIPPINES
     Given by First Lady Amelita M. Ramos on December 15, 1996 at the Rizal Park,
     Manila.
6.  NATIONAL HALL OF FAME 1966 AWARD
For bagging the "Cleanest and Greenest Component City" Award for three  consecutive  years: 1994- 1996. Given by First Lady Amelita M. Ramos on December 15, 1996 at the Rizal Park, Manila.
7.   MOST ACTIVE PROPONENT OF COASTAL CLEAN-UP
      Given by His Excellency Fidel V. Ramos in Malacañang on October 4, 1996.
8.    REGIONAL HALL OF FAME AWARD
Awarded by the Regional Search Committee for the Cleanest and Greenest Local Government Unit in Region IV on October 17, 1996 at DCIEC Building, Penthouse, National Irrigation Administration (NIA) Complex, EDSA.
TOURISM   
1.  BEST TOURIST DESTINATION IN THE PHILIPPINES
     Awarded to the Puerto Princesa-Palawan delegation in the 1994 Philippine Travel 
     Mart, SM Megamall, Mandaluyong City.
2.  BEST CITY TOURISM BOOTH – Travel Mart 1999
3.  THE BEST CITY TOURISM BOOTH –Travel Mart 2000
4.   SKAL CLUB OF MAKATI AWARD – 1999 for Tourism
ENVIRONMENT
1. PHILIPPINE EARTH DAY AWARD
For wildlife and Protected Area Management, given by the Department of Environment and     Natural Resources (DENR) on April 22, 1993 at the Quezon Memorial Circle, Quezon City.
2. GRAND AWARD OF THE FIRST MACLI-ING DULAG ENVIRONMENTAL        ACHIEVEMENT AWARD - Given by Rizal Commercial Banking Corporation and the Rotary Club of Makati on April 25, 1994 at Malacañang Palace.
3.  GANTIMPALANG PANLINGKOD POOK (GALING POOK) AWARD - Given by the Asian Institute of Management (AIM) and the Department of Interior and Local Government (DILG) on June 28, 1994 at Malacañang Palace with His Excellency President Fidel V. Ramos as Guest of Honor for Puerto Princesa City's Bantay Puerto Program.
4.  1995 LIKAS YAMAN AWARDS FOR ENVIRONMENTAL EXCELLENCE
Given by DENR on June 10, 1996 at the Heroes Hall of Malacañang Palace with His Excellency President Fidel V. Ramos as the Guest of Honor for Puerto Princesa City's Bantay Puerto Program as Best LGU-initiated Environmental Program.
5.  UNITED NATIONS GLOBAL 500 ROLL OF HONOUR AWARD
Given by UNEP Executive Director Elizabeth Dowdeswell on  June 5, 1997 in Seoul, Korea during  the World Environment Day celebration. Mayor Edwrd S. Hagedorn has been recognized as the first Filipino political leader who made environmental protection as the centerpiece of administration.
6. MOST OUTSTANDING MAYOR - Given by the Green Philippines Foundation in    November 1998.
7. MOST ENVIRONMENTALLY RESPONSIVE LOCAL GOVERNMENT UNIT  AWARD 2004 - Given by the Development Bank of the Philippines, DBP Unlad: Pinoy 2004 Project to Mayor Edward S. Hagedorn on January 14, 2004 at Bulwagang Pilipino DBP Penthouse.
8.  DUBAI INTERNATIONAL AWARD 2000
     BEST PRACTICES AWARD FOR BANTAY PUERTO
9.  GUSI PEACE PRIZE
Given by the Gusi Peace Prize on November 22, 2005 at the Armed Forces of the Philippines Commissioned Officers' Club, Camp Aguinaldo, Quezon City for Mayor Edward S. Hadegorn for protection of biodiversity and ecosystem,    
MANAGEMENT
 1.  "HOY! GISING" AWARD
  Given by the Management and Staff of Hoy! Gising TV Program at the ABS- CBN        
   Broadcast Center, Quezon City on July 3, 1993.
 2. NATIONAL DISTINCTION AWARD FOR THE BEST GOVERNED LOCAL GOVERNMENT UNIT- Given by the Progressive Alliance and Citizens for Democracy (PACD) on January 6 1994 at PICC in recognition of the City's various community development programs notably in the field of cleanliness, environmental protection, peace and order and eco-tourism.
3.    THE DEVELOPMENT MANAGEMENT AWARD OF ASIA -  Presented by the Asian Institute of Management in cooperation with the Far Eastern Economic Review and the Management Association of the Philippines no March 7,  1996.
4.   GAWAD PAMANA NG LAHI - Awarded by the DILG at the Malacañang Palace in April 1996 for being a consistent best performer in local governance.
5.  FIGHTING COCK AWARD: MOST OUTSTANDING PERFORMER OF THE YEAR - Given by the Progressive Alliance of Citizens for Democracy on January 7, 1996 in Davao City.   
6.  GANTIMPALANG PANLINGKOD POOK (GALING POOK) AWARD FOR CARABAO AND  TRACTOR POOL - Given by the Asian Institute of Management and the Department of Interior  and Local Government in 1997.
7.  OUTSTANDING PUBLIC SERVICE AWARD - Given by Consumers Union of the Philippines, 1999.
8. THE KRUSADANG BAYAN AWARD OF THE CATHOLIC BISHOPS  CONFERENCE OF  THE PHILIPPINES (CBCP) - Given by Archbishop Oscar Cruz and Local Government Secretary Jose Lina, Jr. to Mayor Edward S. Hagedorn on April 8, 2003 for his successful campaign to make Puerto Princesa City jueteng- free.
EDUCATION, CULTURE AND SPORTS
1.   NATIONAL LITERACY AWARD
      Given by the Department of Education, Culture and Sports, 1999        
 2.  2004 NATIONAL LITERACY AWARD- REGION IV-B
      Given by Department of Education Region IV-MIMAROPA on September    2,    2004.
3.   CHAMPION – NATIONAL OPEN MEN'S AND WOMEN'S SEPAK TAKRAW
      CHAMPIONSHIP, December 2002                   
4.  CHAMPION-MIMAROPA REGIONAL ATHLETIC ASSOCITION MEET,
March 2003.
 5. CHAMPION-SEPAK TAKRAW DIVISION IN THE 3RD  BIMP-EAGA
       FRIENDSHIP GAMES Hosted by Puerto Princesa City on August 25-26, 2003. 
6. OUTSTANDING LOCAL GOVERNMENT UNIT – CITY LEVEL
      Given by Department of Education Region IV- MIMAROPA on September 2, 2004.
7. NATIONAL LITERACY AWARD FOR MOST OUTSTANDING LOCAL GOVERNMENT UNIT – MIMAROPA REGION IV - Given by the Department of      Education on September 19, 2003 for the City Government's successful Non-Formal Education Program.
8. CHAMPION- MIMAROPA REGIONAL ATHLETIC ASSOCIATION MEET, Hosted by Calapan Mindoro on February 28, 2004.
9.  CHAMPION- MIMAROPA REGIONAL ATHLETIC ASSOCIATION MEET
 Hosted by Puerto Princesa City on April 24-27, 2005.
10.  BEST EVENT ORGANIZER OF THE ASIAN MOTORCROSS SERIES - Given by the International Council for Local Environmental Initiatives (ICLEI) on February 22, 2005.
Peace nd Order
1. THE PEACE AWARD -  Given by His Excellency President Fidel V. Ramos in recognition of the City'successful implementation of its Peace and Order Program.
2. BEST POLICE STATION OF THE
Given by the Philippine National Police, Region IV on February 1, 1996.
3. BEST LOCAL GOVERNMENT UNIT OF THE YEAR: MAYOR  CATEGORY                      
    Given by the Philippine National Police Region IV on February 1, 1996
4. BEST POLICE STATION OF THE YEAR FOR 2003 IN REGION IV
Given by the PNP Director for Region IV Medardo Banjamin Apacible for the 85 percent success rate of the City's anti-drug campaign.
5. BEST POLICE STATION AWARD FOR 2004 IN REGION IV
    Given by PNP Director for Region IV Alejandro Lapinid for the City's PNP successful   
    maintenance of peace and order.
6.  2 PLAQUES OF RECOGNITION – LOCAL GOVERNMENT UNIT IMPLEMENT
     REPUBLIC ACT 9003
Given by DILG Assistant Secretary Austere Panadero at Sulo Hotel ,Quezon City on March       26, 2004.
Women
1.   OUTSTANDING WOMAN IN TOURISM 2000- GOVERNMENT SECTOR
Given by the Women in Travel (WIT), Manila on May 4, 2000 to Mrs. Ma. Elena  Marcelo Hagedorn in recognition for her achievements as Provincial Promotion Tourism Officer from
1974 to 1993 and as wife of City Mayor Edward S. Hagedorn. She has contributed as key partner in the City's many eco-tourism related awards. 
2.   TEN MOST OUTSTANDING WOMEN OF THE PHILIPPINES AWARD            
Given by the National Council of Women of the Philippines to Mrs. Ma. Elena Marcelo Hagedorn, Oplan Linis Program Manager on April 3, 2003.
OTHERS
1.  COMMERCE AND CONSCIENCE AWARD
    Given by the Dewyer and Rice Foundation on January 30, 1995 in Puerto Princesa    City.
2.  NATIONAL AWARD FROM THE PHILIPPINE MARINES
Given by Brigadier General Guillermo R. Ruiz on November 6, 1995 at Fort Bonifacio in recognition of Mayor Edward S. Hagedorn's invaluable support and services to the Command.
3. 1994 NUTRITION GREEN BANNER AWARD
Given by the Regional Sub-Committee on Nutrition Sectoral Committee on Social    Development IV on December 15, 1995.
4. GREEN BANNER AWARD
    Given by the DILG on October 2, 2003 for the City's successful Nutrition Program.
PORTRAIT OF SUSTAINABILITY                   
Every executive has his own vision of development, each has his own style of management and governance. There are those who are more aggressive while others timidly cautious. Puerto Princesa is one of the 1,692 local government units and City Mayor Edward S. Hagedorn is one of the local executives with one difference. On January 7, 1994, Puerto Princesa City was adjudged and awarded the National Disitinction Award as the Best Governed Local Government Unit, impliedly Mayor Hagedorn is the best local executive in the country at the time.
As shown earlier, more awards and recognition were given to Puerto Princesa City, an indication of exemplary leadership.Obviously, reports on outstanding performances in sustainable development are aplenty, but Puerto Princesa experience is exceptional. This account is unreservedly attributed for having a "quintessential leader" in the person of City Mayor Edward S. Hagedorn.
Messages:
In affirming his performance in office, City Mayor Edward S. Hagedorn, in his Annual Report in 1997 said: "The Hall of Fame Award that the City of Puerto Princesa rightfully earned in 1996 ably demonstrated what partnership between the government and the people can do in achieving development goals. This spirit is the secret of our success in many other common undertakings."
With reference to his program of government: Protect, Rehabilitate, Plan he said: "These have been the key management thrusts of the City Government of Puerto Princesa since the assumption into office in 1992 of the current administration. Protect what is there, rehabilitate what has been destroyed and plan for the intelligent utilization of the City's resources. This is the action cycle upon which the sustainable development of the City is anchored."
In 1999 he said: The year 1999 was the threshold in so far as the incumbent leadership of the City of Puerto Princesa was concerned, not only because of the end of the past millennium, but more so because it underscored the shortness of time within which the administration can work to deliver the promise to make Puerto Princesa a model city in kaunlaran (development) and kapayapaan (peace and order) during the first two terms. If anything, the year was characterized by a sense of urgency and challenge."
His parting words in 2001: "My three consecutive terms of office are about to end. This accomplishment report for the year is the last that I as City Mayor will make for the City of Puerto Princesa. It is indeed a pleasure and a comforting memory for me to have served the people of Puerto Princesa in that capacity. I realize that without your support we would not have achieved the good things the Puerto Princesa now enjoys and is proud of."         
In 2003 he said: "As the first full-year report of our administration since we re-assumed the mayoralty post in November 2002 after a successful recall election, we are very pleased that we were able to deliver on our campaign promise to bring back the honor and vigor (dangal at sigla) of Puerto Princesa through the effective delivery of the entire range of local government services."
  Finally, in 2004  City Mayor Edward Solon Hagedorn said: " Although what we have achieved in 2004 are quite substantive, we wish we could do more in terms of spurring the economy; protecting the environment; providing social services; and constructing roads, bridges, school buildings and other necessary infrastructure. But constrained by budgetary limitations, we have to console ourselves with the fact that even Rome was not built overnight. So as we pled on, we have to make use of the distinct advantages that we enjoy over many local government units in the country, which is that we know the road we are traveling, and we have our people's full support and cooperation in all our endeavors.   
Even as  we continued to implement with zeal the City's various award winning projects and programs on cleanliness, environmental protection, housing, agriculture, education, health, peace and order – all of which brought fame and honor to Puerto Princesa – we embarked on a frenetic infrastructure program aimed at complementing Puerto Princesa's world-class natural beauty with world-class facilities, namely: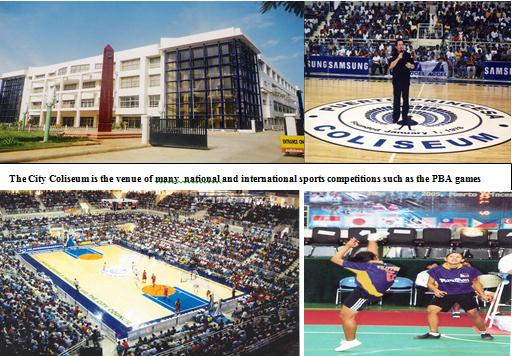 PUERTO PRINCESA CITY COLISEUM. The Coliseum was abandoned for almost two years was finally completed. Since then, it has become a new landmark in the City playing host to numerous activities – local, national and international. With this "world class "facility, many events such as the prestigious PBA Games are now held in Puerto Princesa.    
In 2004, the City of Puerto Princesa recorded a total tourist arrival of 120,674 or an increase of 23 percent from the 2003 figure of 98,118.
The hosting of two international sports events: the 2004 Puerto Princesa City International Motorcross Championship, sanctioned by the Federation Internationale Du Motorcyclistas (FIM) and the Asian Mountain-Biking Championship, has in many ways contributed to the increase in tourist arrivals on the same year.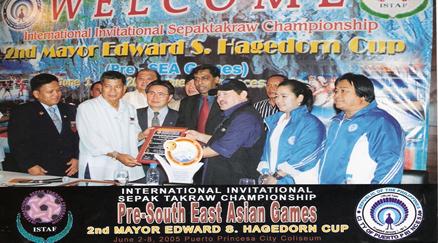 COASTAL RENEWAL PROJECT. The City's Coastal Renewal Project consists of three-hectare coastline land reclamation to accommodate a coastal road that will provide access to the old town site. It is envisioned to ease traffic at the City proper as this will provide an alternate route for vehicles traveling in and out of the City port. 
The 23-million housing project financed by the City government, facing Puerto Princesa Bay, now stands in the area.
The frenetic phase of development of the City within such a short span of time is difficult the match. City Mayor Edward S. Hagedorn and the Sangguniang Panlungsod headed by City Vice Mayor Lucilo R. Bayron has not only provided the people of Puerto Princesa City with the necessary facilities for comfortable living, but also served to enhance Puerto Princesa's image as a modern metropolis, within an island of lush virgin forests and an ecologically-preserved marine environment – one's perfect idea of a tropical paradise.
PUERTO PRINCESA CITY SLAUGHTERHOUSE. The modern Puerto Princesa City Slaughterhouse which has the capacity to slaughter 150 pigs and 55 heads of cattle in two hours, is classified "AA"  by the National Meat Inspection Commission (NMIC). It is said to be known as the safest and cleanest slaughterhouse in the country. An assurance that the meat sold at the city markets is clean and safe from any disease or contamination. This could be attributed to the modern facilities found in the slaughterhouse such as stunning machine, splitting saw, vertical elevator, dehairing machine and others wherein the livestock being slaughtered is barely touched by hand.
Aside from a 5,000 gallon-capacity tank, it has a Waste Treatment Facility which recycles water used in cleaning animal wastes into clean water which may be used for watering and cleaning its surroundings.
 SANITARY LANDFILL. The country's first-of the-art  integrated sanitary landfill and  waste water facility that is owned and operated by a local government unit.
This Php 300 million project was jointly undertaken with financial support extended by the  Asian Development Bank (ADB) and the Department of Interior and Local Government (DILG). This is one of the projects submitted for ADB funding in 1991 under the Philippine Regional Municipal Project (PRMP). It sits in a 35-hectare environmentally controlled area which was once an abandoned mining site in Barangay Sta Lourdes, some 12 kilometers from the City proper.   
The Comprehensive Solid Waste Management Program is envisioned to address the garbage problem which might arise with the influx of tourists in the City. The project will cover the entire urban population and more than half of the rural population. The required capacity is for 20 years waste generation. With the implementation of the zero waste management program under Republic Act No, 9003 otherwise known as the Ecological Solid Waste Management Act of the Philippines 2003, enacted on January 26, 2001, it is expected that the Sanitary Landfill will extend to 50 years or more.
The Sanitary Landfill will be implemented in six phases on a 26.9 hectare lot. At the site are found a leachate treatment plant and pumping stations; composting plant; and auxiliary facilities like access road, perimeter fence and gate; cut-off ditches and drainage system, monitoring wells, protection dikes, gas vents, waste recovery shed, equipment yard and wash bay, weighbridge, guardhouse and administrative building. Dump trucks and a landfill
vibratory compactor were also purchased.
MODERN SOLID WASTE COLLECTION SYSTEMthe award winning Oplan Linis. The modern waste collection system complements the Sanitary Landfill and the highly effective street-cleaning program of the City, Program by the use of mobile garbage bins (wheeled waste bin) that can be readily lifted mechanically by modern trucks.
CLEAN AIR PROGRAM. Executive Order No. 007 issued by Mayor Edward S. Hagedorn, established the Clean Air Program for the City of Puerto Princesa.
A unique project backed by a U$240,000.00 grant from the Asian Development Bank (ADB) gives alternate livelihood to tricycle operators and drivers who opt to change their motorcycle engines from two-stroke for a four-stroke engine thereby cut    down the City's air and noise pollution.                                         .
The ADB grant which was extended through the Poverty and Environment Program (PEP) will fund the testing of a number of technical and policy strategies designed to cut the growing air and noise pollution threats from two-wheeler (motorcycles used for personal transportation) and three-wheelers (tricycles or motorcycles with sidecars that can carry three to ten passengers) using two-stroke engines in the City.         
            The project will effectively stop the air and noise pollution threats on Puerto Princesa City that Bangkok and other cities in Thailand, Vietnam and Indonesia has encountered with the proliferation of the tricycles and two-wheeled vehicles.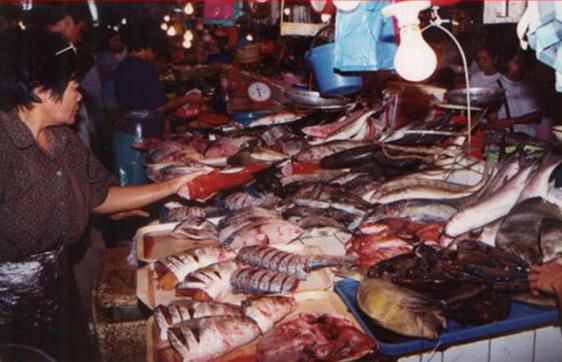 PUERTO PRINCESA COMPREHENSIVE PUBLIC MARKET.  The 32-million peso new Puerto Princesa Comprehensive Public Market located in Barangay San Jose became operational in 1995. Of the total amount of the construction cost, 50 percent is a grant from the USAID. It is starting to perk up with the operation of the Bus and Jeepney Terminal in the area.
The city's existing urban built-up area covers around 2,376 hectares. Based on the standard ratio (1.5 % to 3% of the total built-up area), the entire commercial area of the city covering an area of 327 hectares is more than enough to meet the current demand of a rapidly urbanizing community. Furthermore, electric power and water supply, telecommunication lines, road network, transport and other support facilities are already available within these areas.
PUERTO PRINCESA LAND TRANSPORT TERMINAL. The City Government of Puerto Princesa, by virtue of Ordinance No. 123-1999, s amended by Ordinance No. 232-2003, established a Transport Terminal at the Puerto Princesa Comprehensive Market Complex, Barangay San Jose, to induce socio-economic   activity in the area as well as minimize traffic congestion and pollution in the Central Business District of the Cit y.     
The bus and jeepney terminal serves as the central transportation node between the urban areas, the government center, and the rural areas. It is strategically located adjacent to the new market site. This development has brought about the opening of a new commercial business district. The proposed commercial area in San Jose-Sta. Monica covers an area of 198 hectares. This new commercial business district is very accessible and appropriately located to serve the new core for urban activities due to its proximity to residential areas.
EDWARD SOLON HAGEDORN, AN ENVIRONMENTALIST              
The definition in Webster's New World Dictionary of an environmentalist is "a person working o solve environmental problems such as air and water pollution, the careless use of natural resources, uncontrolled population growth, etc."
The above definition fits to the minute details what Edward Solon Hagedorn, with the invaluable support and cooperation of the Puerto Princesans, has done and will continue to do, to protect, preserve and conserve the environment.
When asked how he would describe himself, he openly replied in a humorous yet in succinct tone, "I am everything a mother would not want his son to be".
 Edward was born on October 12, 1946 in Parañaque City, Metro Manila. His parents were Alexander Carlos Hagedorn of German descent, who was born in Concepcion, Tarlac in the early 1900s       and beautiful Cebuana Gliceria Solon. Edward is the youngest of the six children. The five other children are: Elizabeth, Frederick, Melanio, Douglas and Linda.
He was brought up in a family rich in German tradition and gelled with conservative Cebuana trait. His grandfather Hans Josef Hagedorn was an engineer when he came to the Philippines at the turn of the century.
Edward is not what a person would call an altar boy type. In fact, he admitted that during his primary school days in Parañaque, he and a school mate had an altercation with a certain Father Peter of Saint Andrews School that later ended with the priest being kicked on the behind.
"Those were my boyhood years," he confided. "I was happy-go-lucky from my elementary school days in Parañaque to high school in San Sebastian College- Recolectos, then up to college at the University of the East where I eventually caught the ire of my dad and sent me to Palawan to work in my father's logging business as sort of punishment ." His father ventured in the logging business during the early forties up to the sixties.
Fate must have beckoned his coming to Puerto Princesa for he met Ma. Elena Clark Marcelo, a teacher at the Palawan High School. He never left Puerto Princesa until Ellen accepted his proposal of love and be loved till death shall not part." The couple has two children: Eva Christie Fatima married to Gregorio Villegas of Tanjay, Negros Oriental  with three children: Vaughn Edward, Val Edric and Vince Alphonse; and Elroy John  married to Marijo Villena of Puerto Princesa with also three children: Emmanuel Christopher, Engelbert Christian and Elijah Cayle, a total of six grandsons.
He spurred into the limelight when in the 1980s Edward Solon Hagedorn became an active advocate in environmental
protection and preservation. It was an unusual turn because it was during this time when the good quality Palawan logs were exported to several countries. He was scorned by the illegal loggers.
It was while tending to the family's logging business that Edward come to love the environment. This was accentuated when he built a restaurant to accommodate ethnic and cultural Pinoy bands. Spelled by what he jokingly said as a fairy's intervention, his environmental concerns started as he witnessed the denudation of the forests in Luzon and Mindanao. It is of this thought of "forest denudation happening to Palawan in the future was enough to scare his living daylight out of him."
 Luck must be with him when in 1992 Edward S. Hagedorn was elected City Mayor. He said, "it was about time that we put a stop to all these environmental exploitation. The people of Palawan had had enough. They wanted a leader who could put a stop to all illegal activities in the island so they urged me to run for mayor."
It is said that Edward's life had been a tightly guarded secret even until "action king Fernando Poe, Jr. personified him in a movie that depicted his intrepid and challenging life story. His "legendary" and "heroic" sagas had given birth to speculations as to what he was really made of." Modesty aside, his arboreal person is now probably the most loved local government leader by environmentalist not only in the Philippines but by environmentalists from all over the world. This was clearly manifested when City Mayor Edward S. Hagedorn was presented the prestigious United Nations Global 500 Roll of Honour Award by UNEP Executive Director Elizabeth Dowdeswell on June 5, 19997 in Seoul Korea during the World Environment Day celebration. He has been recognized as "the First Filipino political leader" who made
environmental protection as the centerpiece of his administration.              Macli-ing Dulag is a highly respected leader of a gentle people in northern Philippines. He gained the limelight when he defended his people and their natural patrimony against the "development" of Chico River Dam which threatened their lives as this was foreseen to wipe out the whole community. He bravely fought against its construction and died in the process. This act of bravery for a worthy cause made him an epitome of an environmentalist for which the Macli-ing Dulag Environment Achievement Award was installed in his honor.
On April 25, 1994, City Mayor Edward S. Hagedorn received for the people of Puerto Princesa City the FIRST MACLI-ING DULAG ENVIRONMENTAL ACHIEVEMENT AWARD at the Kalayaan Hall, Malacañang.
A year earlier, on April 22, 1993 Puerto Princesa City was awarded a special EARTH DAY AWARD for Wildlife and Protected Area Management by the Department of Environment and Natural Resources.
 In recognition of City Mayor Hagedorn's environmental programs and Puerto Princesa's reputation as the Environmental Capital of the Philippines, the Rainbow Warrior headed by Capt. Daniel Risotti, the world-famous flagship of international environment protection advocate Greenpeace headed by Von Hernandez, Greenpeace Southeast Asia; Red Constantino, Regional Energy Campaigner; Francis de la Cruz, Event Coordinator; and Athena Ronquillo, Greenpeace International, in arriving in the Philippines, made its first stop in their Southeast Asian Tour.
Based on a national survey, the people of Puerto Princesa take pride in themselves as the people with the highest environmental consciousness in the country. The residents are aware that what causes global warming and environmental degradation are illegal logging; indiscriminate and irresponsible mining; and other destructive activities that decimate the forests, carbon dioxide emissions caused by factories, power plants and vehicles and improper solid waste management.
Accordingly, the City Govcernment under the leadership of Mayor Hagedorn having been "forewarned and forearmed," instituted measures that will help, somehow   prevent global warming.
In a nutshell, Mayor Edward S. Hagedorn's environment protection and conservation initiatives as:
-Banned logging and mining throughout the City.
-Institutionalized tree-planting and made it a merry activity by conducting them through "Pista Y Ang Cagueban" or Feast of the Forest and mangrove rehabilitation in "Love Affair With Nature," holding these activities annually.
-Established a number of tree nurseries to allow continuous supply of seedlings for reforestation.
-The City's success in forest protection and rehabilitation has been proven by the fact that its forest cover increased by 2,088.3 hectares. It may be the only City in the country to have achieved such as feat.
-Implementation of the 50/50 scheme to minimize carbon dioxide emissions caused principally by tricycles, which effectively reduced everyday the number of tricycles on the road by 50 percent.
-Adopted an economic development plan anchored in eco-tourism, agriculture, and marine-fisheries development and light industrial activity that disallows pollutive economic ventures. As a result, there are no carbon monoxide emitting factories or industries in the City.
- The use of renewable solar energy at the City's foremost tourism destination, the Puerto Princesa Subterranean River National Park and the City Satellite Clinics.
Plans to embark on an electric system powered by renewable energy sources like solar, wind and natural gas.
-Officially adopted the zero-waste management program which aims to ultimately render its Sanitary Landfill redundant in the future.
Mayor Hagedorn has relentlessly worked hand-in-hand with other non-government organizations and the private sector who are concerned with environment protection such as the Greenpeace. He is committed to further enhance and expand the environmental protection, conservation and sustainable development programs of the City of Puerto Princesa.
KILOS AGAD ACTION CENTER.  The Kilos Agad Action Center, popularly known as KAAC was created on February 25, 2003 and is being funded by the City Government of Puerto Princesa. It typifies City Mayor Edward S. Hagedorn's philosophy of public service – to fill the needs of his constituents as best as he can and to provide it promptly.
As an Emergency Rescue Unit, KAAC was established to assist in the operations of the Philippine National Police and Bureau of Fire Protection in terms of peace and order in the City and the implementation of its 117 Center which is similar to how the US Rescue 911 program and the spirit of volunteerism, private and civic groups combined strengths in support of the Center.   
  The KAAC is effectivcely and efficiently managed by the Project Manager Mr. Elroy John M. Hagedron.   
DRUG ENFORCEMENT ACTION DIVISION. The City of Puerto Princesa like other developing cities, its peaceful existence is threatened as cases of illegal drug abuse start to appear. This can be traced to the swelling volume of people coming in and out of Palawan and Puerto Princesa City in particular.
In line with the City's proactive participation to combat the worldwide drug epidemic, the City Government created Task Force DEAD.        
The Drug Enforcement Action Division or popularly known as DEAD, started its operations in November 2002  but it was on January 2, 2003 through Executive Order No. 01 issued by City Mayor Edward S. Hagedorn  that Task Force Dead was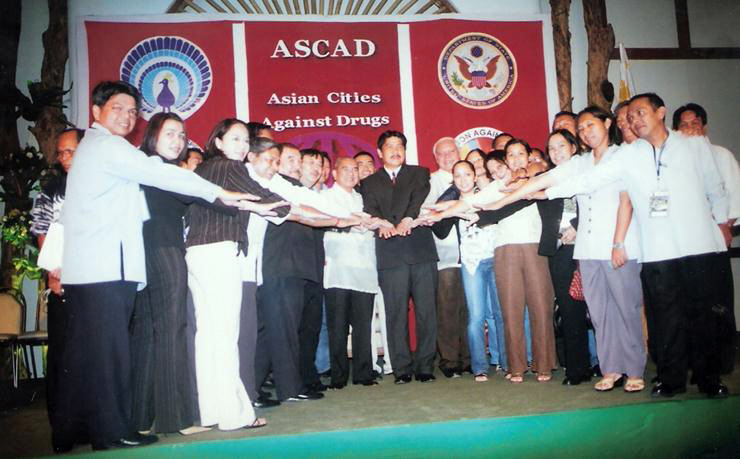 created and became a regular program of the City Government. Its primary goal is to address the proliferation of illegal drugs and to mobilize the community to work together with local authorities in controlling illegal drug abuse especially among the youth in Puerto Princesa City.
It has been tasked to ensure the effective and efficient implementation of the Anti-Illegal Drug Campaign of the City Government. In close coordination with the City Philippine National Police, Task Force DEAD monitors, reports and investigates illegal drug related activities in the City. It takes the lead in the apprehension of illegal drug dealers or pushers in accordance with the due process of law.
Since the illegal drug abuse problem is a social issue, the Task Force maintains its network with various government agencies, non-government organizations and socio-civic groups to ensure and facilitate efficient partnership in addressing the problem. Thus, membership of Puerto Princesa City to the Asian Cities Against Drugs (ASCAD) where Association of Barangay Captains (ABC) President and City Councilor Douglas Solon Hagedorn who is Head of Task Force DEAD sits as Vice Chairman of  the said association.
During the 2nd ASCAD conference held in Puerto Princesa City in 2005, the 200 delegates composed of mayors and national officials from 17 Asian cities headed by ASCAD 2005 Chairman Datuk Hj Md. Nor, and Vice Chairman Hagedorn unanimously supported the accord "Puerto Princesa Declaration Against Illegal Drugs." The accord forged by the delegates has been conceived to expedite illegal drug cases involving their respective countrymen including the investigation, prosecution and extradition of convicted criminals.
On hot pursuit, the points of entry and exit of suspects will be guarded and the pursuing law enforcers from the concerned country will be assisted by lawmen of the host country. Considering its huge membership and the people leading, ASCAD is the strongest in Asia that deals with illegal drug demand and supply reduction.
Assistant Secretary Rodolfo Caisip, Deputy Director General of the Philippine Drug Enforcement Agency (PDEA) commends Task Force DEAD under its Head Douglas S. Hagedorn who has primarily focused on enforcement, has made a dent in the world of illegal drugs by effecting buy bust operations and the apprehension of major "big time" distributors in the City operating for the past years.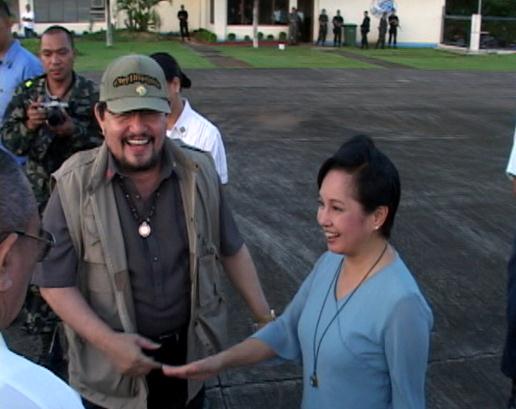 JUETENG FREE CITY.  The City Mayor's environmental concerns were not only focused on the destruction of our forest and marine resources but also in cleaning the City of illegal gambling. When he decided to run for City Mayor, his "jueteng"career was put to a test. He was made to choose between his candidacy or the "jueteng". Aware of the power of the church over its electorate. He approached Bishop Francisco San Diego of the Vicariate of Palawan for support. The Bishop told him that in order for him to get votes, he must stop the "jueteng" operations in the City. He was made to sign a covenant that win or lose, he will stop "jueteng". It was a painful decision on the part of Hagedorn. There is the human resources to take care. Many will end up in the streets jobless. But for him to win the elections he must show by example that he is "Maka Diyos, Maka Bayan at Maka Tao". He took the risk. In 1992 elections he won with a big margin against his opponent the incumbent City Mayor Feliberto Oliveros, Jr.
He lived up to his promise. He stopped the "jueteng" operations in Puerto Princesa City. Many said it was easy for him because he was the "jueteng" operator. For this he was given on April 3, 2003, the Krusadang Bayan Award of the Catholic Bishops Conference of the Philippines for his successful campaign to make Puerto Pr incesa City Jueteng Free. He is the First Mayor nationwide to completely eradicate jueteng on the very day in his new job as City Mayor of Puerto Princesa.
Today, under the leadership of Her Excellency President Gloria Macapagal Arroyo, in recognition for his successful eradication of jueteng, Puerto Princesa City Mayor Hagedorn has been tasked to Head the Anti-Jueteng Task Force of the country, thus making him popularly known as the "Anti-Jueteng Czar". He was successful in ending jueteng in Regions 1 to 5 and the Cordillera Administrative Region. He said he started his two-month campaign which he had set to end  September 15, 2005, through "friendly persuasion" but then the policy is now over, the full force of the law must be applied.
Unmistakably, City Mayor Edward Solon Hagedorn is an embodiment of an environmentalist in his own right. All the awards and citations of Puerto Princesa City speak resoundingly of his unprecedented and incontrovertible accomplishments and achievements.
Evidently, Edward S. Hagedorn is endowed with such sterling qualities of quintessential leaders – "an ordinary mortal who rises to extraordinariness".